What is Skonx&CO dealing with?
Skonx&CO
- the technical representation in Romania, importer and specialized distributor in:
Laboratory apparatus
;
Chemicals and reagents
;
Laboratory glassware
;
Safety equipments
;
Medical and stomatological articles
;
Rubber floors
.
We believe that only articles of quality and the competitive price in close connection with technical assistance of specialty directed towards the customer's needs, can assure solid relations for a long time.
We have been working since 1995, period in which we have carried on a permanent commercial activity being in a continuous expansion by enlarging the area of covering and by diversifying the field of activity.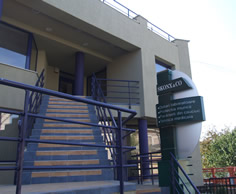 Visualize Skonx&CO head office
The aim Skonx&Co:
Skonx&CO wants to bring you an active contribution at the control and protection of quality. Skonx&Co team has as a main objective the satisfaction with professionalism and promptitude the customers' requirements.

The quality of Skonx&CO:
Our company will offer a whole team of experts that are involved in a continuous process of development, as consequence the solutions offered by us will always have a high rate of performance.
The products sold by us are made of high quality materials that respect the international standards and have ISO certificates as well as various approvals and agreements in accordance with the valid legislation.